MLBs commissioner wants to modernize the league and thats great. But he should focus on doing so behind the scenes and selling the sport in public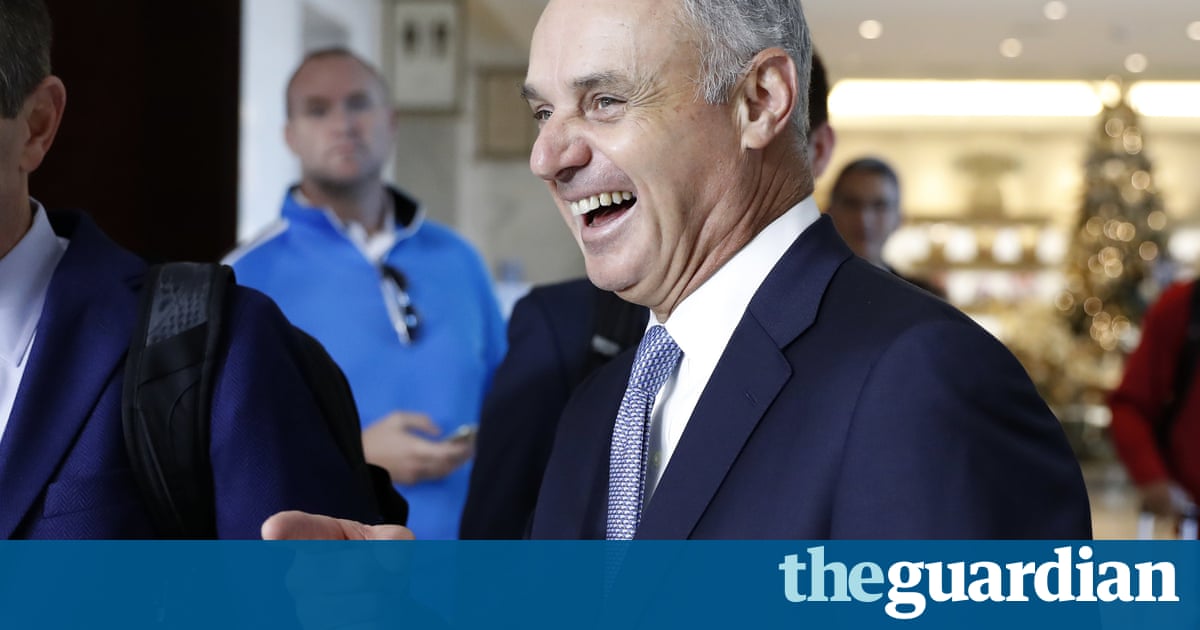 Even the most thick-skinned baseball fan can tire of being told that the game needs to change. Baseball is too slow. Its too stuck in its ways. There are too many innings, too many relievers, too many pitches, just too much … baseball, apparently, for the sport to compete for the publics entertainment dollars going forward.
Ive got nothing against relief pitchers, the detractors say. But they do two things to the game: They slow the game down and … relievers have become so dominant at the back end that they actually rob action out of the end of the game.
Or they say stuff like: [Baseball needs to be] responsive to fans, and I reject the notion that we can educate fans to embrace the game as its currently been played.
And they always make vague declarations about baseballs pace being a problem: [It] is an issue that we need to be focused on. Its going to be an ongoing [process]. I dont think theres a magic bullet that is going to come one year and thats going to be the solution to pace of play. Its going to be an ongoing effort to make sure the game moves along in the way that is most attractive to fans.
What can feel like the constant dragging of the game in the national media gets old fast. Baseball is dying the critics say while the sport continues to outdraw all other leagues and last Octobers World Series had the events highest ratings in 15 years with Game 7 trailing only Super Bowl 50 as the most-watched network broadcast of the year. Even the much-maligned World Baseball Classic set its all-time records for attendance and TV ratings last month.
So attacks on Americas oldest sport seem misguided at best, and ill-informed and desperate at worst. And thats when they come from people who dont identify themselves as diehard baseball fans. But when the comments come from the commissioner of Major League Baseball, as all three quoted statements above did – and many more like it – it feels the equivalent of sports treason.
Manfred, like all of the commissioners before him, is charged with being a good steward of the game. His job is to keep MLB profitable, healthy and growing. He is the sports ambassador and salesman. Yet so many headlines generated by Manfreds comments essentially communicate: Main Baseball Guy Says Baseball Is Bad For These Many Reasons.
Those stories are not gaining coverage because Manfred is some baseball-hating interloper. On the contrary, hes a lifelong Yankees fan who has worked with MLB for 30 years. Ive tried to be clear that our game is fundamentally sound, and it does not need to be fixed, he said back in February. Mission: unaccomplished.
However and blame the media for this, if youd like, since its all the rage the commissioner of a sport saying his sport is good isnt exactly newsworthy. The message that baseball is fundamentally sound is rarely the main takeaway from a Manfred interview. But a commissioner saying his sport has multiple problems that require solutions? That can click.
Manfred is 100% right to feel baseball has some things it can work on. All sports and all leagues do. Reasonable people, a population which includes the commissioner himself, can disagree on what exactly those are and how to address them. Would it help broaden the appeal of Major League Baseball if four-hour games were a thing of the past and the average game wrapped up 15 to 20 minutes quicker? Almost definitely. Maybe thats done by putting in tight pitch clocks, limiting trips to the mound, doing away with extra inning games and ending replay. Its almost assuredly not achieved by limiting games to seven innings and starting every batter with a 1-1 count because those proposals fundamentally change the sport (and would also never be approved).
Manfred wants to do things that improve and modernize baseball and thats great. But he should focus on doing it behind the scenes and selling the sport in public. Now prepare for a sentence that has never before been written in world history: Roger Goodell sets a good example here. (Yes, only here.) In 10 years of interviews, the NFL commissioner wont admit to as many issues his sport faces as Manfred does in one 10-minute conversation. Goodell, to his extreme discredit, also does little to address the NFLs problems beyond rolling out some transparent and cynical PR initiatives. No one wants Manfred to take that approach. But he should be more mindful of the headlines he creates every time he discusses pace of play and possible rule changes in an interview. The more the public hears that baseball is slow, the more likely they will accept that idea as fact and as a bug, not a feature. Then the attendance and TV numbers will see the impact and the baseball is dying crowd will have hard numbers to back up their claims.
The commissioner should try a more positive approach from now on. Talk about the attendance numbers. Last seasons big playoff ratings. How the baseball postseason offers parity that the NBA cant offer. How the sport will always be safer for kids to play than football and hockey. How with this era of Mike Trout, Francisco Lindor, Clayton Kershaw and on and on, MLB has some of the greatest talent ever assembled in the nearly 150-year history of professional baseball. Just sell the game as the best in the world at every opportunity. And when asked about the pace of play, he should leave it at: Were always looking at ways to make baseball even better, but were happy with where we are.
Maybe saying all that wont generate any headlines. But its better than making the same bad ones over and over. Baseball is good. Baseball also has some things it can fix. Rob Manfred knows that. He just needs to stop saying it.
Read more: https://www.theguardian.com/sport/blog/2017/apr/18/rob-manfred-baseball-commissioner-mlb