Jack Moore: Last weeks beanball war between the Boston Red Sox and Baltimore Orioles cast a harsh light on Major League Baseballs toxic approach to violence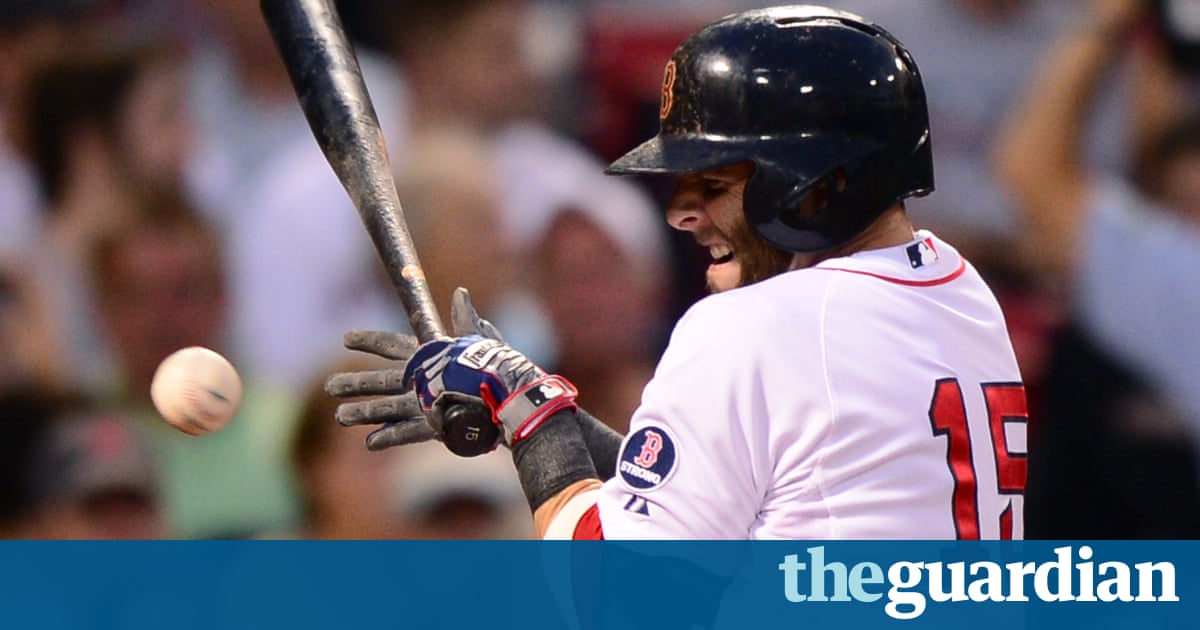 The absurdity of Major League Baseballs beanball culture reached a peak during last weeks Red Sox-Orioles series. Boston entered the series with its hurlers still angry at Orioles third baseman Manny Machado, who inadvertently clipped Sox second baseman Dustin Pedroia with a slide in their previous series. Matt Barnes and Chris Sale threw at Machado over the clubs next few meetings, only for Machado to punish those attempts with an RBI double and a home run respectively.
But Machado was mad following Sales brushback attempt in the second game of their most recent series this past Tuesday. After the game, he vented to reporters. Pitchers out there with fucking balls in their hands, throwing 100mph trying to hit people, Machado said. And Ive fucking got a bat too. I could go out there and crush somebody if I wanted to. But you know what, Id get suspended for a year and the pitcher only gets suspended for two games. Thats not cool.
Charging the mound with a bat and taking on the opposing team like its the pole fight scene from The Matrix Reloaded isnt going to solve anything, but Machado is on to something. The beanball has been used by pitchers for years to enforce frontier-style justice on the baseball diamond, usually according to the ever-hallowed unwritten rules of the game. The pitcher enforces these rules with a projectile hurled at 90- to 100mph, sometimes in the vicinity of the batters head. The batters recourse? Get one of his pitchers to throw at one of the opponents hitters, leading to a violent and extremely stupid cycle of beanballs that only ends when one of the two teams finally gets bored or the commissioner steps in and tells the children to calm down.
Major League Baseball suspended Barnes for four games, but Sale got off without any punishment, as the league determined Sales pitch wasnt done with malice. Intent is difficult to prove, but its hard to believe MLB couldnt look at the Red Sox and their targeting of Machado and not see the pattern. The commissioners office clearly thought something was getting out of hand. Baltimore starting pitcher Kevin Gausman was ejected the next day for hitting Xander Bogaerts with a 77mph slider not exactly the pitch of choice for a beanball war signaling the umpires were under orders to intervene at the slightest hint of retaliation.
Most revealing, though, was this quote from Commissioner Manfred. I felt it was different than the normal I-hit-your-guy, you-hit-my-guy, he told reporters gathered at Target Field, where he was watching the Twins host the Red Sox. This is the commissioner, the public facing moral voice of baseball, saying that there is an acceptable form of the beanball war.
He went on to admit that Major League Baseball hardly monitors these beanball wars as they develop. As a matter of fact, he said, it persisted so long was hard to trace back who had hit who when and whose turn it was. That comment is odd for two reasons. First, literally every pitch thrown this season has been and will be televised, so theres no hidden evidence. Second, Manfred continues to insist on a proper form of the beanball war, with all acceptable as long as turns are observed.
If anything, it belies the leagues casual attitude towards its pitchers pelting hitters with 90mph projectiles. Anger from batters like Machado, then, should be understandable. How should hitters take Manfreds statement as anything but hanging them out to dry? And how should pitchers across the league take it if not as an endorsement of the use of the beanball as a disciplinary or scare tactic?
Major League Baseball made its apathy towards beanballs clear in the 2014 season, when the Arizona Diamondbacks used it as a purpose pitch against multiple opponents. It was clear in the Arizona clubhouse that not only were beanballs part of Diamondbacks baseball, but that a pitcher who rejected the directive couldnt count on keeping his roster spot. I think come spring training, it will be duly noted that its going to be an eye for an eye and were going to protect one another, GM Kevin Towers told KTAR 620 AM in 2013. If not, if you have options, theres ways to get you out of here, and you dont follow suit or you dont feel comfortable doing it, you probably dont belong in a Diamondbacks uniform.
It didnt even take until spring training for the beanballs to start flying. Troy Tulowitzki narrowly avoided a hairline fracture in his tibia resulting from some of that Diamondback vigilante justice. The retaliation continued throughout the season, as teams and players who got on the wrong side of the Diamondbacks and their manager Kirk Gibson a man who was once suspended for breaking his stick over an opponents back in a recreational hockey league game like the Pirates Andrew McCutchen or the Brewers Ryan Braun.
The main problem with the idea of dispensing suspensions or other discipline for purpose pitches is that intent can be very hard to determine. Pitchers slip. Mistakes happen. But here, Major League Baseball was presented with a very clear case. Not only were these pitches clearly intentional to anybody watching the pitcher who delivered the hit-by-pitch to Braun, Evan Marshall, was greeted on the top step of the dugout with a hi-five from Gibson and his teammates after his ejection but Diamondbacks brass had gone so far as to declare these intentions in the media.
Those were things that were taught to you very early in your professional career, you know, eye for an eye, Towers said in defense of his beanball philosophy on 620 KTAR. You know, not that youre out to end somebodys career or hurt somebody, you know, you read enough Tony La Russa books, whos old school even Dusty Baker that doesnt happen, its not gonna happen. Not only does Towers express a weird belief that theres no way an accident can happen, no way somebody could get hurt from a beanball war, but he also reveals just how deep these attitudes go in the culture.
This is an attitude that Major League Baseball needs to stamp out. First of all, the leagues hitters need to be protected. Hitters should be able to stand at the plate without expecting league-sanctioned beanballs coming at them. And at the very least, they should be protected so they dont, as Machado suggested, take the matter into their own hands.
But the implications of Major League Baseballs attitudes towards beanballs goes much further than just the next Red Sox-Orioles series. Their implicit endorsement of the eye-for-an-eye attitude that Towers espoused and the Red Sox apparently follow now trickles down to everybody who watches and idolizes Major League Baseball and its players. Thats the attitude that makes people think its OK to throw at opponents in a city recreational league game. Its the attitude that made a couple of high schoolers in Georgia in 2008 think it was acceptable to send a message by drilling an umpire in the face with a pitch. It is, an attitude that teaches young men that violence is an acceptable answer.
This is an institutional problem that goes far deeper than a couple of problematic pitches from Red Sox hurlers last week.If Major League Baseball wants to stop these wars, they need to significantly ramp up the penalties not just for the pitchers who throw at opposing hitters, but for the coaches who sanction or even order these offenses. Neither Gibson nor Towers were ever disciplined in 2014 for any of the Diamondbacks headhunting, despite their public statements and conspicuous congratulations towards those who fell in line.
How is the message ever going to get across if the pitchers are the only ones to ever get suspended and their short suspensions are seen as an admirable sacrifice by their managers? How is a pitcher ever going to be empowered to say no to his manager if the manager doesnt have something at stake himself? For that reason, managers should face substantial suspensions perhaps 10 games or more when their pitchers intentionally go after an opposing batter. They should have an avenue to appeal said suspensions, of course, because as mentioned above, intent is murky and difficult to discern. But there needs to be some sort of disincentive, because as things stand now, pitchers feel emboldened to throw behind anybody who crosses them, and hitters like Machado feel like they have no other recourse but to charge the mound.
As long as Major League Baseball allows this eye-for-an-eye philosophy to thrive, they are playing with fire. The league is asking for one of its best players to wear a fastball in the head and suffer a potentially career-ending injury. It is asking for this philosophy to not just thrive in the big leagues, but among the thousands of amateur and younger baseball players who watch and admire the professionals above all else.
But we should know better than to expect Major League Baseball to change.So expect the beanballs to keep flying, the benches to keep clearing, and this same old song and dance to continue until somebody important gets hurt badly enough for the league to care. At this point, its the only thing that will get their attention.
Read more: https://www.theguardian.com/sport/2017/may/12/mlb-beanballs-baseball-traditions-rules-change