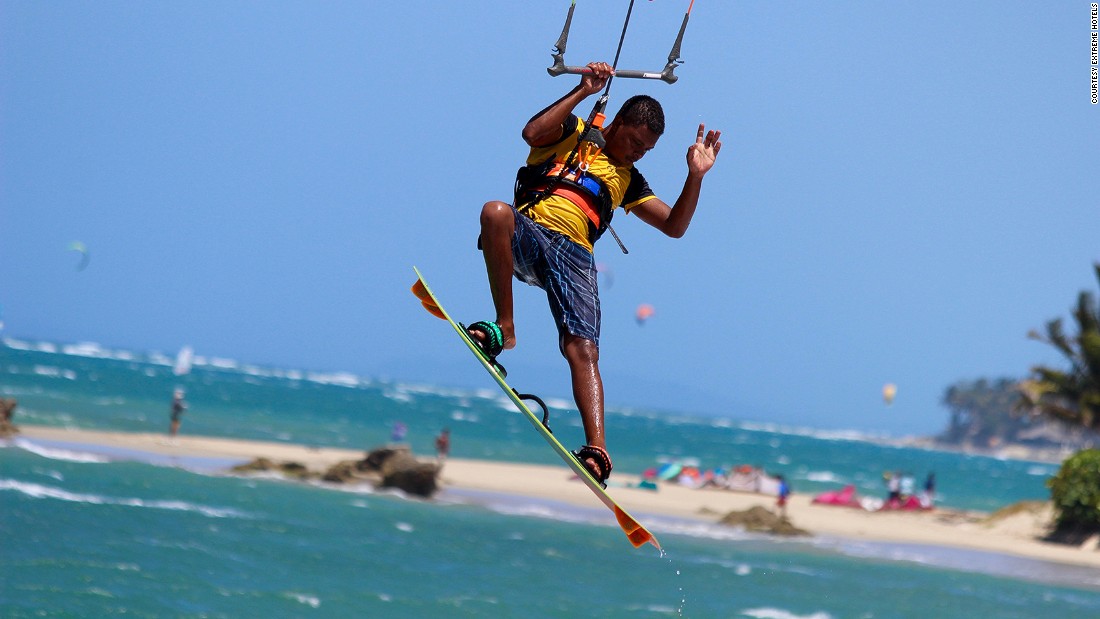 (CNN)A New Year health kick doesn't have to mean detox, denial and downright misery.
January is the perfect time of year for a relaxing break, with a spot of fitness thrown in for good measure.
Here are 10 places for health fiends to check in and get trim in early 2017.
Trekking and bodyboarding in Costa Rica
Cabrete on the Dominican Republic's north coast is about more than just riding waves.
The eco adventure-themed
Extreme Hotel
serves up adrenaline fueled ways of getting in shape, from kite surfing on azure waters to trying out trapeze at the country's only dedicated circus school.
The latter is staffed by internationally certified trainers, helping visitors learn to build core muscle groups in an approach that's way beyond the average sweaty gym class.
There are also regular fitness camps and yoga classes for those who want something a touch less out there.
Cycle safari in Tanzania
Sitting in the back of a 4×4 and seeing Tanzania's wildlife up close is one thing. But combining a safari with an epic off-road bike ride is the ultimate New Year fitness kick.
With a chance to see herds of elephants in Tarangire before cycling cross country to Lake Manyara National Park,
Rothschild Safaris'
11-day jaunt also takes in the vast Ngorongoro Crater.
This 100-square-mile amphitheater is home to cheetahs, zebras, black rhinos and hyenas.
For anyone after extra exercise, there's also the opportunity to go off-the-beaten path and hike in Empaki Crater.
Yoga and meditation in the Indian Himalayas
In the Himalayan foothills of northern India, Kumaon is the ideal destination for anyone wanting to take a passing interest in yoga to the next level.
Shakti Himalaya
offers a "Head in the Clouds" guided walking tour with its in-house teachers, with stops for yoga and meditation along the way.
There's even a private chef available at each stop en route.
Nearby
Dunagiri retreat
offers a more rustic, affordable experience, with spectacular mountain views from its outdoor decks.
Ski mountaineering in the Italian Alps
Annual skiing trips are a great way to get fit after weeks of festive overindulgence.
The usual trail of lifts and simple runs can get repetitive, however, so for something lung busting, there's always ski mountaineering.
Clambering up hill with skis and poles then braving off-piste routes isn't for the fainthearted or inexperienced, but is a fitness booster like no other.
Much Better Adventures
offers a weekend of mountaineering in Italy's Monterosa backcountry, as well as a day of free ride skiing and guided trips down hidden routes.
Read more: http://www.cnn.com/2017/01/02/travel/best-fitness-vacations/index.html