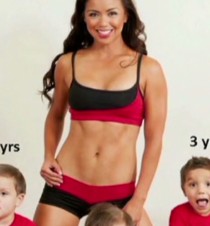 (CNN)Before you're outraged at yet another story on Maria Kang, the mom who sparked outrage with her scantily clad "What's your excuse?" photo, or Caroline Berg Eriksen, the fitness blogger who created a firestorm after posting a shot that she claimed was just four days after giving birth, hear me out.
This is not a story about them, why they did what they did, whether they are "fat-shaming" by posting the photos or how on earth they have time to look like that as moms.
No, this is not about them: It's about us.
Why do those post-pregnancy fitness selfies and photos get under our skin so much? And if they make us so upset, why do we keep looking at them?
Kang's Facebook photo
, where she shows off her washboard stomach alongside her three toddlers, has been seen more than 16 million times.
"I think it makes us crazy because you are either one of two people: You either have the resources and ability and time to work your booty off all through pregnancy and immediately afterward in order to have that body, or you're genetically blessed, and not many of us fall into those two camps," said Stephanie Dulli, a Washington mom of two young boys and founder of the blog
Stephanie Says.
"It's culturally ingrained in us that our worth is graded by our beauty," Dulli said. "The first thing that's said to us is 'Aren't you cute? Aren't you pretty?' "
When we get older, logically we realize that we are about more than our looks, Dulli said, although she concedes it's so easy to fall back into bad habits.
"It still can tap a chord in you. … It floods the system, almost, and you can't think logically. You react emotionally, and I'm guilty of that as well."
Mysko said it's especially hard for women to shut out the images because they're "in our faces all of the time."
When or if the images start to make women ask themselves the question, "What's wrong with me? Because I don't look like that," Mysko recommends some mental refocusing.
"It's just constantly repeating to yourself, 'No, it's not me. It's this message, and I need to not absorb this,' " she said.
Why can we be so mean?
The backlash against Kang and Berg Eriksen was immediate and overwhelmingly negative from the start and is another example, in my humble opinion, of how nasty we women can be to each other.
"The biggest issue to me is the lack of honesty," said Hutt, the radio and television host and mom of two.
"If we own our own insecurities and doubts … then maybe we will congratulate each other when there's an authentic win — like a job promotion or a great (picture) in a bathing suit after giving birth, or even the win of the best body gene pool," she said.
She added this nugget, which I love: If we focus on what makes us unique, maybe the "instinct to be bitter about someone who has something (we) don't will dissipate."
Mysko says we can also do something else. The next time we're about to comment on someone's post-baby weight, we can shift the conversation.
"When you find yourself tempted to compliment somebody on how (they got) the baby weight off, just take a moment and stop yourself and think about what else you could ask about and something that might … take it to a deeper level."
Read more: http://www.cnn.com/2016/10/07/health/post-pregnancy-fitness-selfies-parents/index.html