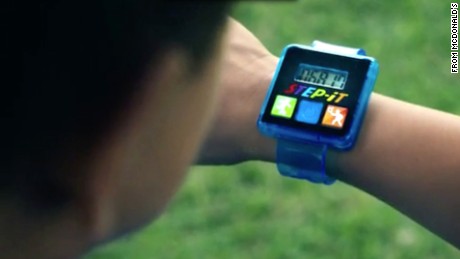 (CNN)McDonald's Step-It activity wristbands are being recalled due to risks of skin irritation or burns, the U.S. Consumer Product Safety Commission said Tuesday.
Jennifer A. Emond
, assistant professor of pediatrics at Dartmouth Geisel School of Medicine, is skeptical of McDonald's new toys, saying that it's "not a credible way to promote healthy lifestyles to children."
"It's a common tactic used by food manufacturers. They promote their products alongside with healthy lifestyles," said Emond. The danger of such a marketing strategy is that it diverts parents' attention away from poor nutrition, making parents "feel better" by focusing more on the "energy out" side of the weight gain equation than considering energy intake.
She suggested that instead of feeding their children Happy Meals, parents might consider other affordable fitness tracker options, or "go for a walk, go to the park, play games with your family that promote fitness rather than going into a restaurant."
McDonald's has long faced criticism regarding low nutritional values in its food. In recent years, the company has been increasingly committed to improving its
food quality
, including introducing the low-fat
Go-Gurt
yogurt in 2014 and
removing artificial preservatives
from its chicken nuggets in August.
According to McDonald's
nutrition calculator
, a Happy Meal with a kids' fries, a cheeseburger, apple slices and a milk jug contains 530 calories and 20 grams of fat. It would take an
average adult man
who weighs 195 pounds about 90 minutes to walk off those calories, according to a calculator by the
Calorie Control Council
.
Garrison said there could be a mixed message, of sorts. "It does come across as an attempt at branding McDonald's and Happy Meals as 'healthy' — and while they've made some improvements in that regard over recent years, there is still a long way to go."
Read more: http://www.cnn.com/2016/08/23/health/mcdonalds-recalls-step-it-fitness-tracker-skin-irritation-burns/index.html