Stunning own goals, squirrels and Japanese pizza delivery scooter racing | Classic YouTube
This weeks roundup also features boxing at White Hart Lane, pizza-delivery scooter racing, bare-handed racket destruction and a pesky squirrel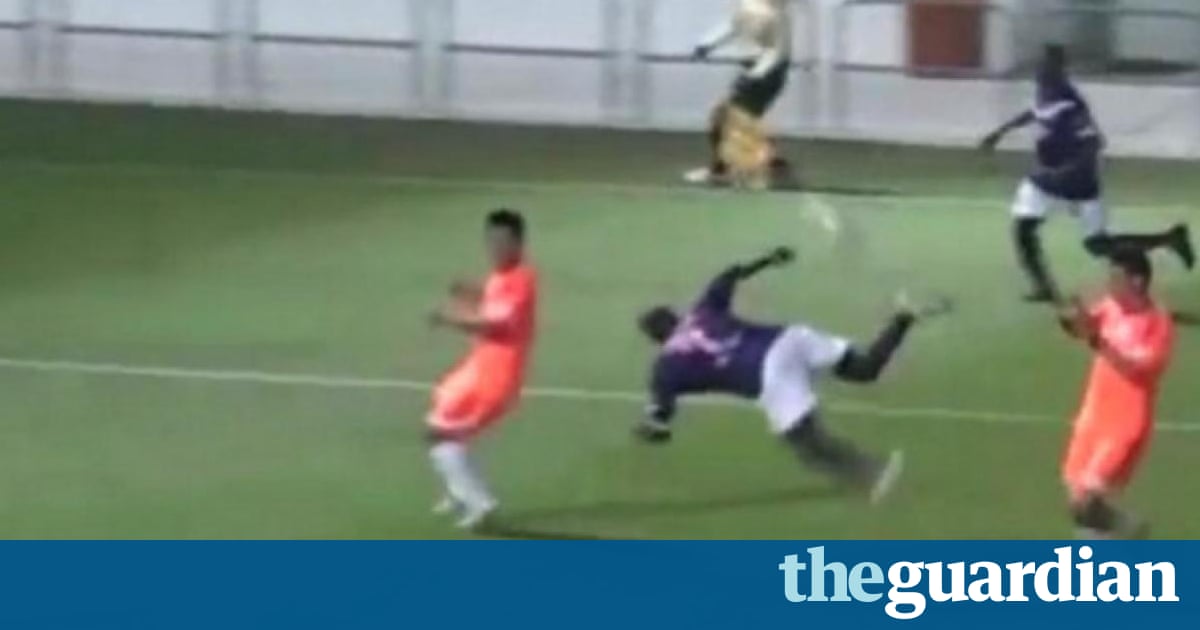 1) There are own goals and there are spectacular own goals, the kind that would be goal of the month contenders if only they were at the right end of the pitch. Heres Adrien Gulfo, from the Swiss team Pully Football, suddenly discovering his inner Marco van Basten when he least wants to. Northampton Towns Mathias Doumb said he didnt want to take any chances when he put into his own net on the volley from 30 yards to score for Mansfield in a League Two match in 2013. Its always worth tipping our hat to Evertons Sandy Brown for that emphatic diving header in aMerseyside derby in 1969 of course and to Crystal Palace defender Jeff Hopkins for sending Perry Suckling scrambling in a 4-3 thriller in October 1989. But perhaps the most dazzling in recent years was scored by Festus Baise, against Hong Kong side Sun Hei. He cant perform a reverse scorpion volley and send the ball floating over his keepers head from 18 yards can he? Course he can.
2) Luka Pibernik wasnt the first cyclist to celebrate winning a stage only to realise the race isnt over before going on to finish as an also-ran. Here he is unwittingly making a show of himself when there were still 6.2km to go on stage five of the Giro DItalia. The poor fellow finished 148th. Adam Toupalik made exactly the same mistake albeit with some additional chest-beating at the 2016 Cyclo-Cross World Championships. But perhaps the ultimate is this. After the hubris, comes the fall and the humiliating limp to the line.
3) Spurs have bid farewell to White Hart Lane, their home for over a century and the venue for Londons first open-air boxing contest. Its not just the football team that has moved to Wembley. More pugilistic treats from the Path vaults: US boxer v Greek wrestler on a picnic blanket, Jimmy Wilde teaches the sweet science and a South London pub with a boxing ring. What could go wrong?
4) New sport of the week: Japanese pizza delivery scooter racing. Perhaps it influenced Eliseu, who took a scooter for a spin around the Benfica dressing room to celebrate his teams Portuguese title win. Its not the first time a scooter has been seen in a football ground, of course. Inter fans could have seriously hurt someone had this knuckleheaded stunt at San Siro gone wrong.
5) Minnesota and Clevelands MLB game was delayed for over four minutes by a squirrel with a healthy dose of self confidence.
6) Grigor Dimitrov has form when it comes to destroying tennis rackets but this strongman bare-handed destruction-act at the Italian Open was a new and interesting variation on an old act.
1) This Canadian league game between the Ottawa Fury and FC Edmonton was going excellently for Ottawa, until their keeper completely lost sight of Edmonton striker Jacob Keegan. A perfect Robbie Keane moment.
2) Baseballs can end up in the strangest places.
3) Now Rafa Bentez has done his thing on Tyneside, we will once more see the renewal of a fixture that has been one of the top-flights most entertaining down the years. Heres how Newcastle United v Liverpool looked in 1901.
Spotters badges: TheCedarRoom, GrahamClayton, whobroughtoranges.
Guardian YouTube football channel

Guardian YouTube sport channel
Read more: https://www.theguardian.com/sport/blog/2017/may/18/classic-youtube-best-sports-clips-own-goals-pizza-delivery-scooter-racing
---